What COVID-19 Can Teach Us About Investing In The Community
As disruptions spread, it's plain to see we need to invest more in community organizations and institutions.
I was debating whether to write anything this week given what the world is encountering in the COVID-19 outbreak. We've all seen, in ways both major and minor, disruption to our institutions and lives, and in times such as these, the truly important things tend to come into clearer focus.
Among the truly important things, I'm fairly certain blogging isn't one of them.
On Friday, though, I read an interesting piece from Lee Chilcote for Cleveland Scene, and after ruminating on it for the better part of a day, had a small inkling of an idea I wanted to express. So here I am to express it.
Chilcote investigates the current state of Community Development Corporations (CDCs) in Cleveland, and that hit close to home for me. I got my start in urban planning at a CDC in the Linden neighborhood of Columbus, and have spent the past dozen years working in the community development field.
(I hope to one day find my way back to working at a CDC, once I feel I've accomplished what I need to in a local government role. It's rewarding work, and has the potential to make such a positive impact on people's lives.)
In light of the global pandemic emergency, stories are filtering out from across the globe of communities banding together, helping one another, and allowing humanity to override the pettiness and parochialism a great deal of our public discourse usually suffers from. Those stories make me think of my own experiences in community development, and the potential that still exists for the field to improve the lives of regular, everyday folks.
A new wave of leadership is taking the reins in many CDCs across the country. Younger Gen Xers and older Millennials are bringing new perspectives, approaches, and expectations to the field, injecting much-needed vitality into organizations that are uniquely positioned to bridge the gap between neighborhoods and city leadership.
One example of this new blood is Jamar Doyle, executive director of the recently-formed Greater Collinwood Development Corporation, who Chilcote spoke to extensively. Doyle, 41, sees an opportunity to build healthier, more equitable places that put people first. And for Doyle, like so many others in the field, the work is more than just a job.
"The passion for the work for me is because I feel like I'm rebuilding home," he says.
That sentiment was echoed by Akilah Watkins-Butler in a recent Shelterforce article entitled, "A Love Letter to the Next Decade of Community Development."
"Today, as a part of what I'll call the 'possible" generation,' the innovations we're working on that amaze me aren't flying cars, they are the creativity I see in centering on our commitment to truly equitable development," she writes. "I believe the future of community development looks like its foundation — when we started, we weren't an institution. We were just ordinary people working on behalf of folks in our neighborhoods."
As the failings of many of our institutions and leaders have been exposed over the past couple of weeks, I think it important to keep that perspective in mind. The foundation — the people — should be the foremost focus in the work of urban planning and community development.
I believe the future of community development looks like its foundation — when we started, we weren't an institution. We were just ordinary people working on behalf of folks in our neighborhoods.
The work of CDCs is not without its challenges, though. Despite an infusion of young leadership, fresh ideas, and new technologies that make some aspects of the work easier, funding for the community development field has been under constant siege since the turn of the 21st century.
A great deal of funding for CDCs come from Community Development Block Grant (CDBG) funds allocated by the Department of Housing and Urban Development (HUD). In the most recent budget proposal by President Trump, CDBG would be cut entirely.
CDBG has long enjoyed bipartisan support, as every CDBG dollar spent leverages $4.09 in non-CDBG spending, according to the National Association of Counties. Cutting the program, then, has nothing to do with performance and everything to do targeting the low- and moderate-income people it helps.
"The roadmap laid out in the administration's budget proposal is not a viable path forward,' said Hannah Matthews of the Center for Law and Social Policy, a national non-partisan, nonprofit organization advancing policy solutions for low-income people. "Instead, we need a federal budget that invests in America's future. We need investments that reduce poverty, promote economic opportunity and reduce racial and ethnic disparities."
If the COVID-19 outbreak has revealed anything to us in a short amount of time, it's that our communities need more investment and more resources, not less.
In Cleveland, where the number of CDCs has shrunk from a high of 40 to fewer than 30 today, dwindling funding and new leadership has led to greater collaboration.
"What is the benefit to a neighborhood and the region if you have resources going to ineffective CDCs and equal or less resources going to effective CDCs?" Burton Bell Carr Development's Tim Tramble said.
Much of the collaboration among CDCs in Cleveland has been facilitated by an organization called Cleveland Neighborhood Progress, a nonprofit intermediary that provides support and technical assistance to CDCs. By promoting collaboration and focusing on the effectiveness of CDCs in the city's neighborhoods, Neighborhood Progress has helped to ensure that funding is getting the most bang for its buck.
"We feel that the system is stronger and more efficient than ever before," said Joel Ratner, president of Neighborhood Progress. "We're delivering community transformation in many places, though there's still a lot of work to be done. Our job at CNP is to make sure that neighborhoods either maintain or improve the quality of community development service over time so that all neighborhoods ultimately — and this is aspirational, we're not there yet — have strong, transformational CDCs working there."
This approach makes sense, of course. While CDCs today are servicing larger areas and greater numbers of people, cooperation and efficiency help to deliver better results.
From my own experience in Linden, we nurtured relationships with the City of Columbus, the non-profit Keep Columbus Beautiful, police and fire departments, and the Ohio CDC Association in order to make the most of what limited resources we had. Yet, we rarely had communications with neighboring CDCs, an opportunity lost.
"We've gone from everyone working just for the goals of their own neighborhoods to realizing we need to work with our neighbors," said Jeff Verespej of Old Brooklyn CDC on Cleveland's west side. "We're not going to succeed as a city if we have three places that are vibrant and the rest of our communities are still being left behind. We've raised our game to make all of us better."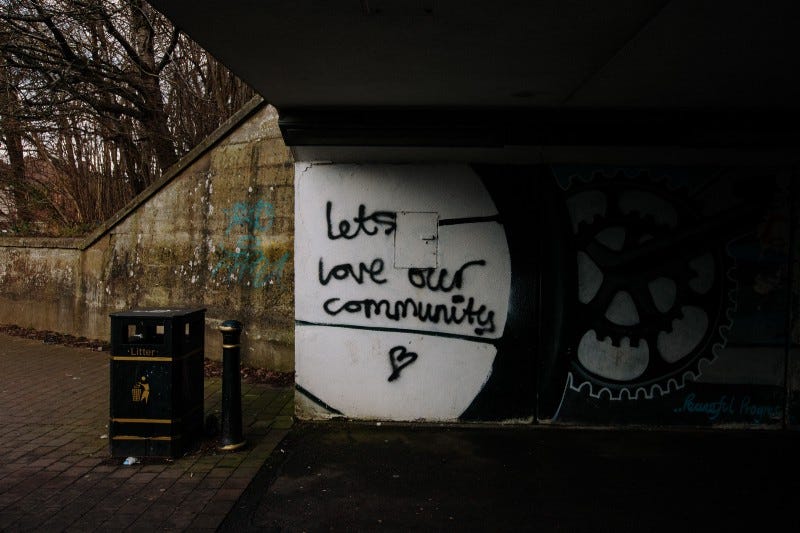 COVID-19 has disrupted the lives of so many not used to disruptions. For the people in communities where CDCs carry out their work, though, such disruptions are often commonplace. The cause may be different this time, but the struggles involved are not.
I don't expect that after the immediate threat of this pandemic has subsided a vast majority of people will emerge with a changed perspective and suddenly demand the kind of investment in our neighborhoods that is so sorely needed. On the contrary, I would imagine that the usual out-of-sight-out-of-mind attitude will once again take hold.
The community development field is used to that, however, and will continue to strive to be agents of positive change, often on a shoestring budget and with a skeleton crew of a staff. The passion with which those in the field tackle their work will not be dissipated, though. Energetic leaders, focused on serving the foundation of their neighborhoods — the people — will continue on.
One can hope, anyway, that perhaps recent events engender a greater sense of appreciation for that work.
---
Thanks for reading!
If you like this newsletter and want to support it, forward it to someone who'd like it.
If you're seeing this newsletter for the first time, you can subscribe here.
If you're a Medium subscriber, you can read the post there, which potentially kicks a little cash my way.